Todays robot vacuums don't just clean your floors. They also allow you to control them remotely through a smartphone app or a digital assistant like Amazon Alexa or Google Home. Some can even stream video from onboard cameras, so you keep tabs on your abode while you're abroad.
But how well do they actually work? To find out, we got all of the most popular smart robot vacuums into our test labs in Cambridge, MA. We evaluated whether their apps were easy to use and how well their smart functions actually worked, and we also made sure they could still clean your house.
If you're looking to keep up with the Jetsons rather than the Joneses, here are the best robot vacuums you can buy.
Updated January 11, 2018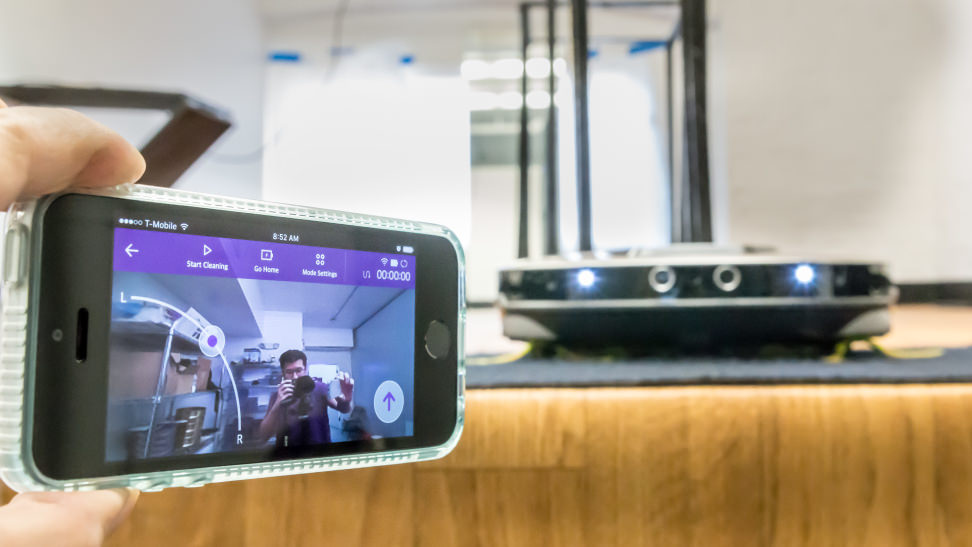 LG Hom-Bot Turbo+ CR5765GD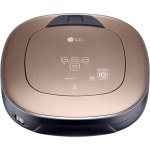 LG Hom-Bot Turbo+ CR5765GD
Best Overall
We think the LG Hom-Bot Turbo+ is the best smart robot vacuum largely because of how many useful things it can do. Like other smart robot vacuums, you can control it remotely from your smartphone, telling it where and when to clean.
Unlike other robot vacuums, its HomeGuard feature can also transmit images and video. That means you can instruct the Hom-Bot to park in front of a main entrance and take pictures whenever anything bigger than a dog walks past. If you were ever worried about the safety of your home but don't want to wire your house with cameras—or you just want to see what Fido or Fluffy is up to when you're not around—the Hom-Bot is a good compromise.
Luckily, the Hom-Bot Turbo+ is also a great vacuum cleaner: During our dirt pickup tests, this LG scored in the top 10 percent of all robot vacuums we've tested, averaging around 12.6 grams of dirt pickup per run. Roughly speaking, over the course of a week the Turbo+ can pick up as much dirt and debris as a single clean with a full-sized vacuum.
Its big drawback is that it currently lacks Alexa compatibility—but it does work well with Google Home, and its smartphone app is robust. It will show you a map of where it cleaned, and you can send it to specific rooms via remote control.
When we tallied up all its superior smart features, powerful cleaning, and slick design, we knew the LG Hom-Bot Turbo+ would earn its spot as the overall best smart robot vacuum.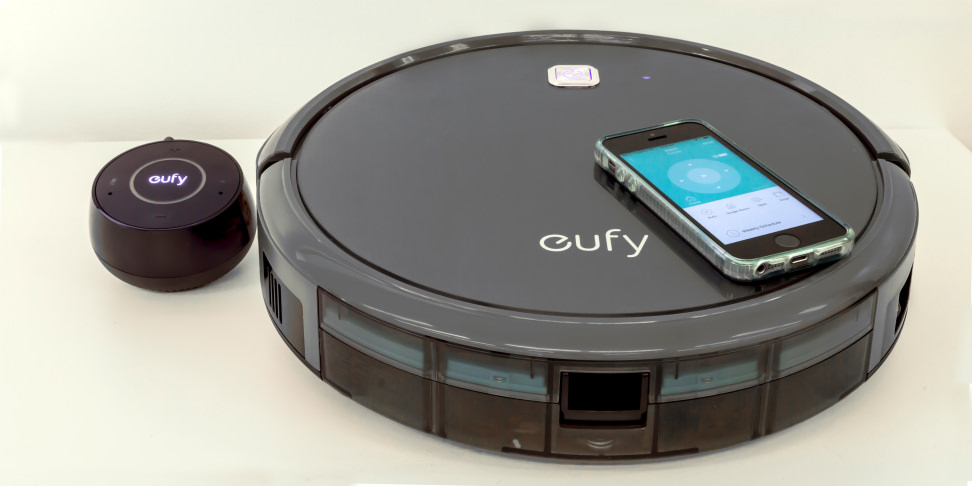 Eufy RoboVac 11c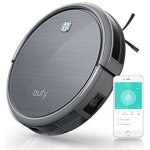 Eufy RoboVac 11c
Best Value
Since it's essentially a connected version of the Eufy RoboVac 11—which we love—it's no surprise that the Eufy RoboVac 11c is our pick for the best value robot vacuum. Retailing for around only $299, the Robovac 11c is the most affordable robot vacuum that's both smart and Alexa compatible. The Neato Botvac D3 is the next closest in the price and that costs around $50 more.
With that $50, you can get the Eufy Genie, a voice-controlled smart hub that's just as good as an Amazon Echo. And if you don't want Alexa, all the smart features on the 11c still work with a smartphone app.
Of course it cleans well. Like the regular RoboVac 11 it might take a long time to clean, but it picks up plenty of dirt.
EcoVacs Deebot N79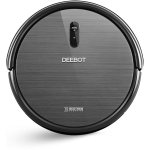 EcoVacs Deebot N79
The EcoVacs DeeBot N79 is the best-selling robot vacuum on Amazon as of October 2017. With a regular price just below $200 and sales that push that price even lower, we think it's an amazing value. However, that doesn't change the fact the N79 is the most basic model in our roundup.
The smart app basically transfers the functions from the N79's remote control onto your smartphone. While the N79 is smart, it's not compatible with third-party services like Alexa, Google Home, or HomeKit.
Putting the N79 to the test, we found it cleaned well—but sometimes skipped under furniture and shied away from throw rugs. There's no way to keep it out of a room, either. However, the smart functions worked well. Setup was a breeze—just remember you need a 2.4GHz connection.
Neato Botvac D3 Connected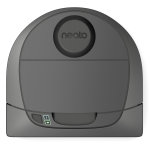 Neato Botvac D3 Connected
Neato was the first robot vacuum company to introduce Alexa compatibility, and its upcoming Botvac D7 Connected promises some unique features when it hits stores later in 2017. We'll be sure to update this article as soon as we test the D7.
For now, we like the D3 Connected because it's both capable and affordable. Like all Neato vacuums, its D-shaped design allows a wider brush to get right up against walls, and it does a good job cleaning. Neato robot vacuums also have sensors mounted on top that give them a clearer view of the room. In our tests, Neato is one of the few brands whose robots can consistently make the transition from bare floors to atop high-pile carpet, and back down again.
The D3 Connected's added smart features allow you to start, stop, and schedule cleanings from a smartphone app or through Alexa, Google Home, or Facebook Chatbot.
iRobot Roomba 980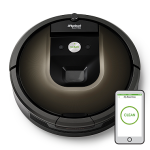 iRobot Roomba 980
The iRobot 980 boasts above average dirt pickup and an intuitive app. It gets high marks from user reviews, and it did well in our obstacle course.
Pet owners will appreciate the 980's included virtual walls, which can either be directed across a door to keep the 980 out, or to form a halo around a dog or cat bowl where the 980 won't clean. However, the virtual walls take up floor space, and the upcoming Neato D7 Connected can be told where not to go with a simple click on an app.
The iRobot app gives you the standard fair of start, stop, schedule, and a cleaning map. Like the Dyson, however, it's high price tag—$899 on sale—puts it out of reach for most consumers, and we don't think its features are unique enough to justify spending that much. The iRobot Roomba 960 has the same smart features as the 980, and it costs $699. However, the 960 has a less powerful motor than the 980.
Neato Botvac Connected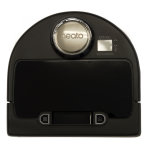 Neato Botvac Connected
The Neato Botvac Connected retails for around $700. For nearly twice the price of the D3 Connected, you get real-time remote control cleaning, a smartphone app that shows a map of where it cleaned, virtual barriers similar to the Roomba's, and a bigger battery that lets the Connected clean more than twice the surface area as the D3—up to 5,000 square feet.
An improved brush and edge cleaning features means it picks up dirt and debris as well as the top vacuums we've tested. However, if you're willing to spend this much on a robot vacuum, we recommend waiting for the upcoming D7 Connected. It is quite similar to the original Connected, but its virtual "No-Go" feature is truly unique.
Dyson 360 Eye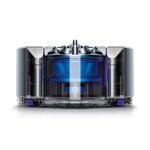 Dyson 360 Eye
The Dyson 360 Eye is what happens when a vacuum company designs a robot. As a vacuum, the Eye has the same motor and full-size brush a Dyson upright. As a robot, it relies on a panoramic camera and track-like wheels to get almost anywhere. The end result is bulky, but good at cleaning.
In contrast, the Dyson app is streamlined and slick. It lets you start and stop the machine and can display a map of where the 360 Eye has cleaned. There's even a contact for customer service if something goes wrong. While these features aren't unique to Dyson, we found the app to be easier to use and better designed than many of its competitors.
Still, the 360 Eye has two major drawbacks: price and size. At $999 with no sales in sight, it's hard to justify spending three times as much as the Eufy RoboVac 11c—which cleans nearly as well. The Dyson is also 4.7 inches tall, so it can't get under couches or cabinets.
Samsung POWERbot R7070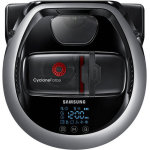 Samsung POWERbot R7070
The Samsung Powerbot R7070 has a ton of innovative features, like an automatically retracting shutter that deploys to scrape debris away from walls. We also really like Samsung's app. With it you can start, stop, schedule, and see a cleaning map of where the unit has been. It's also compatible with Alexa and Samsung's own SmartThings platform.
However, we found one significant flaw in our tests: It repeatedly got caught on a throw rug, dragging it around the room. Other robot vacuums we've tested had this same problem, but they all cost much less than this Samsung. We think this may be a flaw with the R7070's automatically adjusting suction, and we're hoping that a software update will be enough to fix the issue.
EcoVacs DeeBot DM88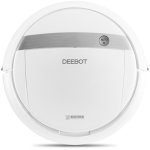 EcoVacs DeeBot DM88
The EcoVacs Deebot DM88 rounds out our list of smart robot vacuums. It cleans as well as other vacuums at the same price point, and its accompanying app is standard fare, allowing you to start, stop, and schedule cleanings. You can also link the M88 to Alexa.
At around $450, however, the DM88 sits at an awkward crossroads of affordability and performance. We think the Eufy is a better value, and LG, iRobot, and Neato all make better vacuums. It does have one unique feature: A mop attachment can polish wood and tile floors.
How We Test