robotvacuums
LG Hom-Bot Robot Vacuum Cleaner Review
It's hip to be square, especially when you're cleaning corners.
$610.00 at Amazon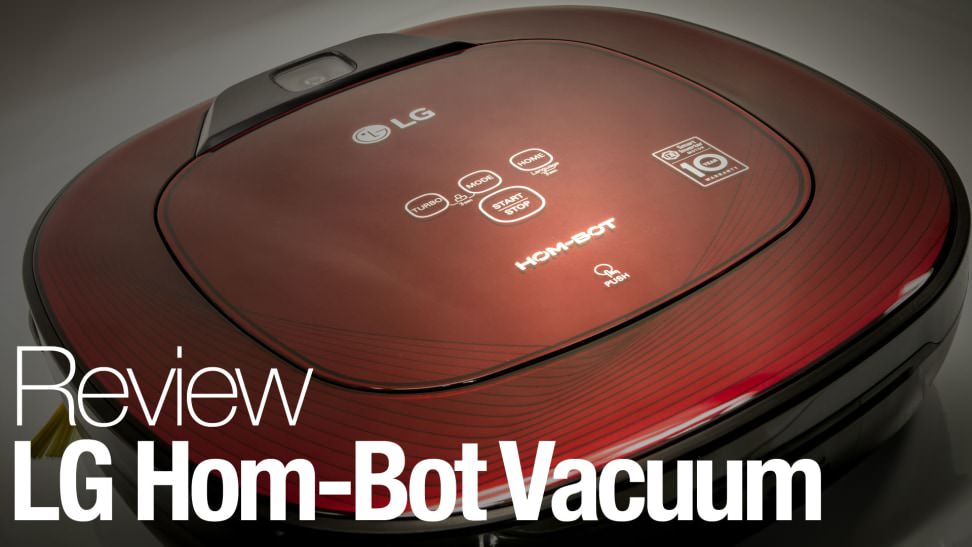 The LG Hom-Bot VR65502LV is better than 53% of the robot vacuums we tested.
It is better than 55% of the robot vacuums we have tested under $800.
Electronics giant LG just released a new robot vacuum, and we had the chance to test it in the same labs where we've put best-sellers from iRobot and Neato through their paces.
While LG has sold robot vacuums worldwide for more than five years, the LG VR65502LV Hom-Bot (MSRP $749) is the company's first foray into the U.S. market. It features a square design for improved corner cleaning, two cameras for obstacle sensing and room mapping, and seven customizable cleaning modes.
We spent a week with it, and found that LG has created a worthy competitor to some of the more established names on the market. The Hom-Bot not only looks great, but it has excellent dirt pickup, is easy to use, and can even clean tall carpet—a task a lot of the competition struggles with. While it lacks some of the basic features that less-expensive models boast, we think a recent price drop to $500 makes it a good pick—especially if you don't want an ugly robot roaming your house.
Clean look, clean house
If you ascribe to the KonMari method of living simply—as outlined in Marie Kondo's best-selling book The Life-Changing Magic of Tidying Up—you may have reservations about buying a new gadget that will always live on your floor.
However, the Hom-Bot may still fit with your style. Its handsome, ruby-red exterior has won design awards, and with over an hour of battery life, this LG can easily cover an entire open-concept floorplan.
Unlike other robot vacuums, you don't even have to tip it over to empty the dustbin. And when—not if—the vacuum gets interrupted, it automatically picks up cleaning where it left off. That's easy for the Hom-Bot, since it has a learning mode that memorizes obstacles in a room in order to avoid them during future cleaning sessions.
We're a bit puzzled by a few of the Hom-Bot's features: Yes, it lets the user choose from different cleaning patterns, but it lacks any virtual barriers. Unlike iRobot, with its Virtual Walls, there's no way to keep the Hom-Bot from exploring your whole house. That's a pretty serious omission in a vacuum that costs this much. If you want to keep the Hom-Bot from bumping into your dog bowl or out of the playroom, there's no way to make that happen.
Test results
Over the course of one cleaning session in our robot vacuum test lab, the Hom-Bot suctioned up 10.3 grams of dirt. That might not sound like much, but since you can set the Hom-Bot to clean daily, that could add up to around 72 grams of dirt each week.
It doesn't matter where that dirt is hiding, either. The LG Hom-Bot joins a distinguished group of robot vacuums that weren't tripped up by a high-pile carpet. As you can see in our video of the test, the Hom-Bot reached the summit and got back down again without the need of a sherpa.
The only downside? It made loud screeching noises during the climb, likely due to the automatic engagement of the high-powered Turbo function. Normally, we wouldn't harp on sound quality, since the best practice is to run your robot vacuum while you're out of the house. However, since LG advertises how quiet its machine is, the noise is worth noting.
We should also mention that we observed the Hom-Bot getting caught on an obstacle meant to simulate a transition between two different kinds of flooring. Eventually, we had to step in and free it.
Wait and see
This is an attractive robot vacuum with good cleaning performance and innovative technology. However, a $749 sale price and an odd list of features might make the LG Hom-Bot a tough sell for some consumers. In fact, despite its many benefits, the lack of any virtual barriers is what keeps the VR65502LV from earning our highest recommendation.
Its dirt pickup is neck-and-neck with our top rated robot vacuum, a Neato that features a WiFi connection and barriers, and sells for $699. We think the Hom-Bot's smoked finish looks better than the Neato's utilitarian style.
If you're on the fence, we'd wait a few months until a new generation of robot vacuums debut. In addition to hotly anticipated models from Dyson and Panasonic, new LG and Samsung robot vacs will be able to memorize your home's floorplan, travel from room to room, and double as security cameras.
Until then, we're impressed with LG's debut offering, and look forward to what else the company's robots can do.
Information about the Hom-Bot's manual and warranty can be found on LG's website.
Comparable Products
Before you buy the LG Hom-Bot VR65502LV, take a look at these other robot vacuums.
Our editors review and recommend products to help you buy the stuff you need. If you make a purchase by clicking one of our links, we may earn a small share of the revenue. Our picks and opinions are independent from any business incentives.