robotvacuums
Infinuvo Cleanmate QQ-2 Basic Robot Vacuum Cleaner Review
Whether this sub-$200 robot vacuum is a bargain or just plain cheap is up to you.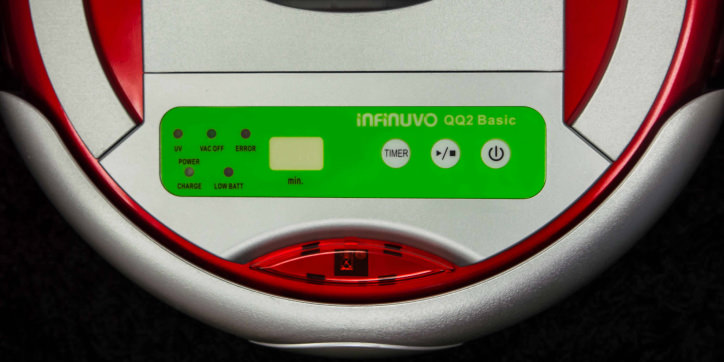 Credit: Reviewed.com / Kori Perten
The Infinuvo Cleanmate QQ-2 (MSRP $199.99) is one of the most affordable robot vacuums out there. In fact, it can be found online for as little as a $150—less than half the price of the cheapest mainstream model.
Professional reviewers, like us, will say this robot vacuum gives you what you pay for. It lacks a dock, has below-average dirt pickup, and is far from user friendly. However, the QQ-2 is not completely without value. If you look past its unintelligible interface and poor performance, you still have a functional robot vacuum. For $150, that's quite a novelty.
After extensive testing, we had little praise for how well the QQ-2 cleaned. But no robot vacuum is going to clean as well as a human with a full-size vacuum, and this Infinuvo is a cheap way to try out automated cleaning. This robot vacuum may not be perfect, but it's definitely more than a toy.
Design & Accessories
Problems from a bygone era
To understand the Infinuvo Cleanmate QQ-2 Basic, you need a little background. The QQ-2 lineup came out right when robot vacuums started becoming popular. That's why the Basic model is chunky and bright red, instead of sleek and black. That's why it has blinking yellow lights. The QQ-2 even claims to shoot out UV radiation to sanitize the floor–a feature that might cause bright carpets to fade. These quirks endear the QQ-2 to us, but some design choices deserve to stay in the past.
The LCD display is one of them. It's only large enough to display two letters or numbers. This means you'll have to refer to the manual a lot for the first few weeks of ownership, in order to decipher number and letter combinations that are completely arbitrary. For example, 1 stands for the Spiral cleaning pattern and 2 stands for Special Bounce—program names that aren't that enlightening in their own right. In total, Infinuvo programmed the QQ-2 with six different cleaning styles, all of which need a gander into the manual to understand what they do.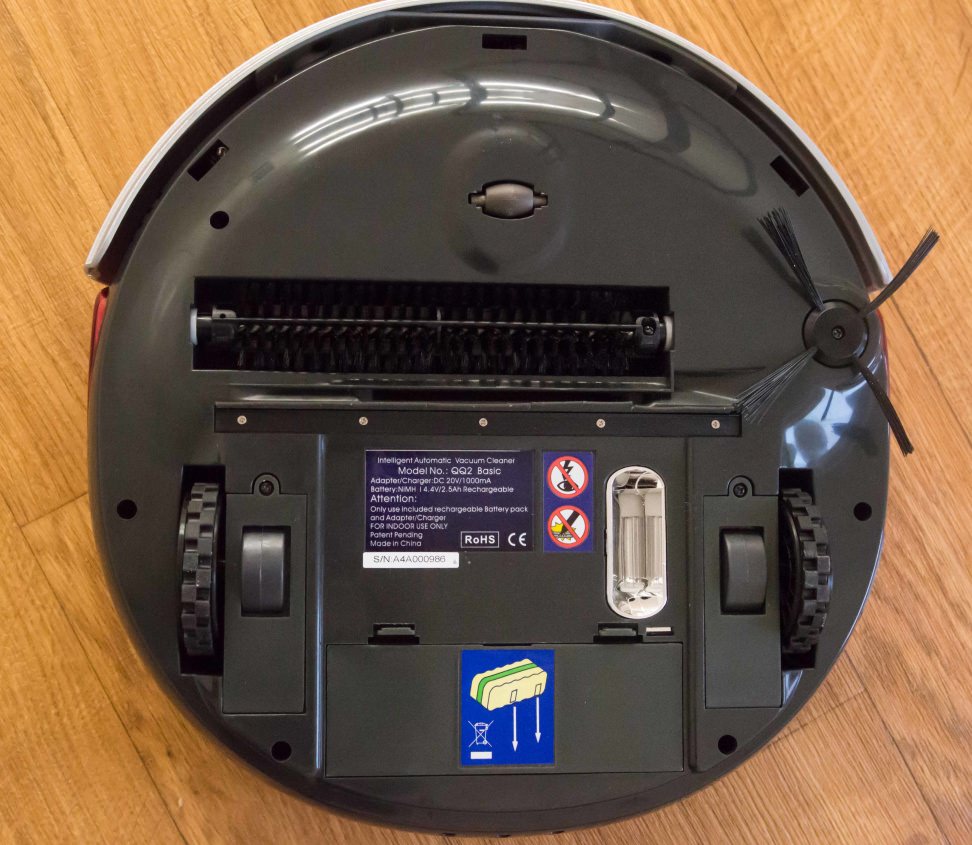 To switch between the various styles, you'll need to use the remote. Unlike other manufacturers that use AA or AAA batteries, the QQ-2 remote requires a CR2932 watch battery. This is easily available in stores, but it's unlikely you'll have one sitting in a junk drawer.
Aside from the incomprehensible interface, our only other major gripe was the lack of a dock. Whereas other robot vacuums automatically return to a charging station, you have to manually plug in the Cleanmate to recharge after a cleaning cycle. If the point of a robot vacuum is to clean the floor with as little human interaction as possible, then the need to manually charge the QQ-2 after every cleaning detracts from its appeal.
Other Infinuvo vacuums in the QQ-2 series feature a better display and a dock. However, all of them—including the QQ-2 L—appear to be unavailable on Amazon.com.
Advertisement - Continue Reading Below
Cleaning & Navigation
Basic, indeed.
In robot vacuums, navigation and cleaning are one and the same. Where the robot vacuum goes is where it cleans. Typically, the more you spend, the better the navigation programming will be.
The Cleanmate can be found for under $150. Although it has older technology and Infinuvo has released newer models, the QQ-2 was good for its time. To learn how well it cleans today, we placed the Infinuvo onto our testing area and subjected it to various household obstacles. Ultimately, we found this model has consistent pickup results, but still lags behind pricier models.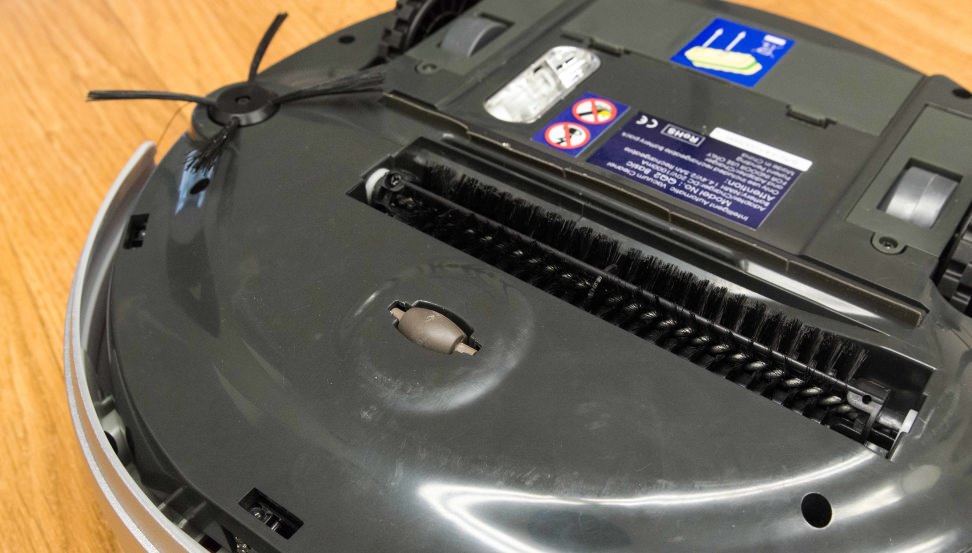 Our testing area has four different surfaces: bare floors, doormats, normal carpet, and high-pile carpet. The QQ-2 picked up dirt on the first three with ease. That includes picking up dirt and transitioning between the different surfaces. Even thresholds between rooms shouldn't pose a problem. However, high-pile will be an insurmountable challenge. In most homes, high-pile carpet takes the form of area rugs, and the Cleanmate shied away from ours. This is both a blessing and a curse. Some robot vacuums start cleaning the high-pile, but get caught on the long fibers. So, even though the QQ-2 didn't climb up there, at least it didn't get stuck.
After the carpet testing, the next most important factor is furniture navigation. It's easy to clean an empty room, but living spaces tend to have evidence of human habitation. To simulate furniture, the testing area has wooden posts with openings that act like legs on stools or tables. They vary from 6 to 18 inches apart.
In this more complicated task, the QQ-2 seemed to stumble. It avoided cleaning in between the 6- and 12-inch areas entirely. With better programming, the QQ-2 could've attacked the 12-inch area from multiple angles, partially cleaning where it could fit. But at least it didn't wedge itself between table legs with no hope of escape.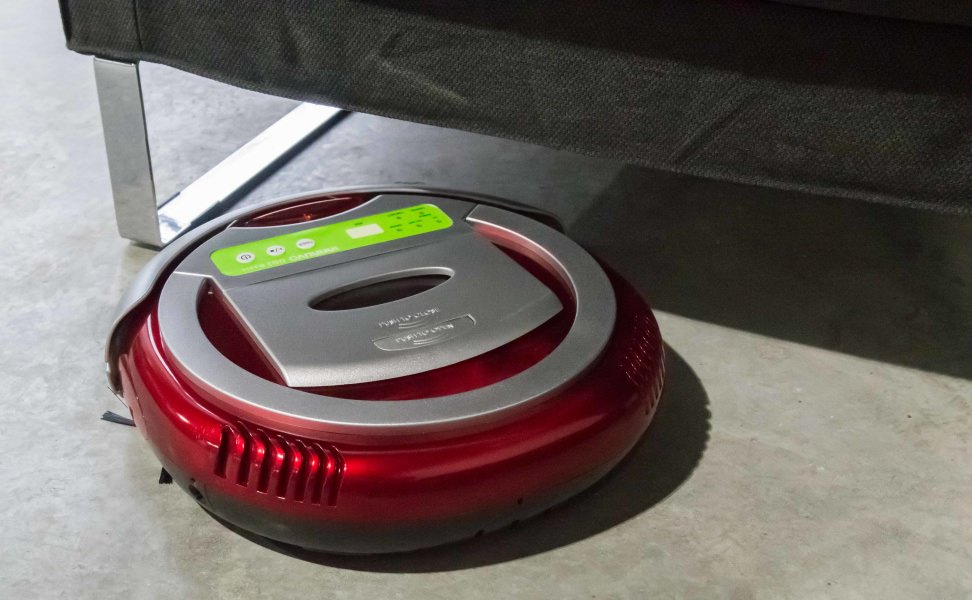 And if ever there was a place for a robot vacuum to go and never be heard from again, it would be underneath a piece of furniture like a couch or bed. To simulate these types of situations, we have shelves that are two-, four-, and six-inches off the ground. Unlike other vacuums we've tested with these obstacles, anywhere the QQ-2 could fit its entire body without fear of getting stuck, it went. The QQ-2 cleaned under the four-inch and six-inch shelves until the floor was spotless, but—not surprisingly—the two-inch shelf got no love.
Our final set of obstacles are risers. These are blocks of wood that are 2/3, 4/3, and 2 inches thick. The floors in most homes are not perfectly level. Dips, lips, and nicks are common occurrences that can trip up a robot vacuum. In this case, the QQ-2 got on top of the 2/3-inch riser, and that was it. Most other vacuums have no problem with the next-highest riser.
The QQ-2 covered our obstacle course in a quick 20 minutes. During that time, it picked up a total of 8.6 grams of dirt. In fact, it's pretty good as a carpet sweeper. Its only problem is finding the dirt it needs to pick up. Like a lazy employee, the QQ-2 sped through its tasks without care, eager to finish. Unfortunately, at the end of its day, it didn't even have a dock to get home to.
Warranty
The Infinuvo Cleanmate QQ-2 comes with a one-year product warranty. That warranty covers only defects caused by original materials or workmanship. The battery has a six-month warranty under the same conditions as the rest of the product.
Before You Buy
The novel option
Given its price, the Infinuvo Cleanmate QQ-2 comes across as a novelty. It has a flashy design, rudimentary programing, and what amounts to a ray gun in its UV floor sanitizer.
However, poor cleaning performance and the lack of a dock means this robot vacuum is behind the times. If you want a machine that requires little user interface, you should probably invest elsewhere. But if you want a robot vacuum just to have one, the QQ-2 is a neat novelty that can actually do some cleaning.
Our editors review and recommend products to help you buy the stuff you need. If you make a purchase by clicking one of our links, we may earn a small share of the revenue. Our picks and opinions are independent from any business incentives.
Our editors review and recommend products to help you buy the stuff you need. If you make a purchase by clicking one of our links, we may earn a small share of the revenue. Our picks and opinions are independent from any business incentives.
Advertisement - Continue Reading Below
Compare Prices
Our editors review and recommend products to help you buy the stuff you need. If you make a purchase by clicking one of our links, we may earn a small share of the revenue. Our picks and opinions are independent from any business incentives.
Get Our Newsletter
Real advice from real experts. Sign up for our newsletter
Thanks for signing up!